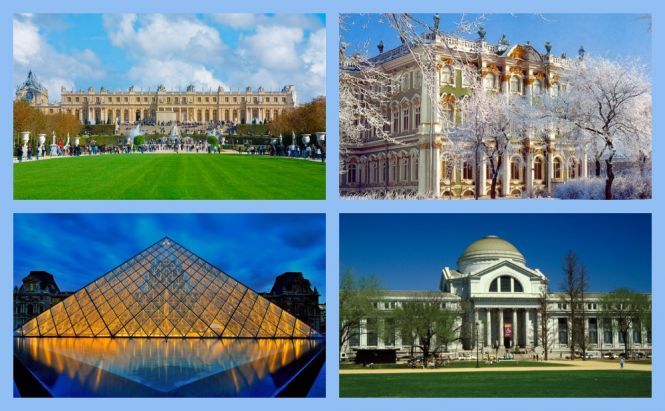 Visit World's Famous Museums Online
Maybe you are an art-addicted person or you are the most busy businessman in the world; maybe you don't have a visa or you are too lazy to get it; maybe you are a poor student or just have an inherent love of beauty – anyway, hours-long roaming around museums in different countries is not for you. Well, thanks to the Internet and not indifferent people, nowadays we have an at-home comfortable access to virtual tours. We all are able to visit several countries in a couple of hours and open a captivating world of art and inspiration.
The Louvre Museum
The Louvre
First of all, I'd recommend you to visit The Louvre (fr. Musée du Louvre) page, a world's famous art museum on the right bank of the Parisian Seine-river. The website's greatness is exactly like the real museum building – it impresses with exhibit pictures and art spirit. On the page of virtual tours, you will plunge into the world of Egyptian Antiquities, Remains of the Louvre's Moat, and Galerie d'Apollon. There, you will walk along the museum halls and choose exhibits to zoom into to read some information about them. For some reason, the third link doesn't run on the page, so I found it for you here so as to not interrupt your exciting journey.
The Palace of Versailles
The Palace of Versailles
Since we started out by covering the French national cultural heritage, I can't pass by one more fascinating and impressive creating – the Palace of Versailles (fr. Château de Versailles). This work of art amazes with its perfection. The rooms impress by their valuable attire, spacious halls make you feel very little, and endless gardens give the impression of labyrinths. And this website is able to show you all its beauty and become your personal guide. I personally like this web page a little more since it has video footages that are built like short historical backgrounds (or references) with the voice over. Choose the Versailles 3D In Video section to learn more about different periods of French history that made impact on the prolonged reconstruction of the palace.
National Museum of Natural History
National Museum of Natural History
The developers of the US National Museum of Natural History did their best and created one of the most successful websites, in my opinion. The zoom-in capabilities are amazing, the image quality almost doesn't suffer when you are trying to read exhibit labels (although not all of them can be zoomed into to a readable level). You can explore all three floors of the Museum and discover the world of birds, mammals, and gems&minerals. There is also a possibility to choose between a desktop version tour (for Windows, Mac, Linux) or a mobile one (for iPhone, iPad, Android). Enjoy!
The Madame Tussauds Museum
Madame Tussauds Museum
Madame Tussauds is a wax museum in London that was founded by Marie Tussaud, a wax sculptor. My dream was to visit it and have the idea of what it looks like from the inside. Now my dream has partly come true: I've spent a lot of time online scrutinizing close-to-real people sculptures. I think that this is a great option for those who don't have a possibility to travel and just a preview for journey-amateurs. Don't miss these links to experience the atmosphere of celebrities and well-known politicians.
The State Hermitage Museum
The State Hermitage Museum
The State Hermitage Museum is a museum of art and culture in Saint Petersburg, Russia founded in 1764. The virtual tour will open a veil of Russian cultural secrecy. The online collection will reveal famous paintings, like 'Madonna and the Child' by Leonardo da Vinci; priceless drawings, miniatures, engravings, sculptures, mosaic, applied arts; a lot of unusual jewelry, costumes, furniture; old carriages, armor, flags, medals, coins, etc. Everyone will find something to fix eyes on and read about.
P.S. I'd like to mention a constantly developing Google Art Project. It was launched in February, 2011 in cooperation with 17 international museums. Thanks to the people behind it, we have an everywhere access to high-resolution images of artworks.
I hope you discovered something interesting and informative while reading my article. But whatever feeling you have – it's always better to see everything with your own eyes and take some photos to share impressions with family and friends.