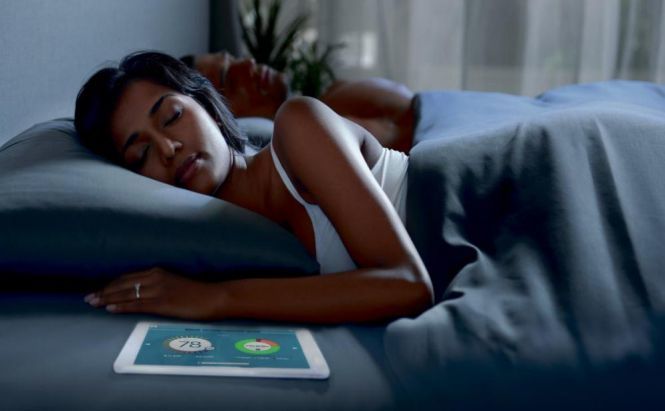 Monitor Your Sleep with New Tech
I believe that almost everyone has heard of various scientific studies confirming the extreme importance of good sleep in our life. I would rather say that almost everyone has experienced it personally. But knowing about the vital necessity of adequate sleeping doesn't always prevent us from having late nights and filling our life with more and more gadgets that make us lose our sleep. In today's tech life it is more pressing then ever.
Tablets, phones, laptops, PCs, ebooks that we use all day and still hold in hands before falling asleep are changing our sleep patterns greatly. The sounds, lights and activity on our devices make our brains have unnecessary extra work before bedtime. As a result, we get restless sleep and one day become aware of the problem.
Quite ironically, the cause of the problem — technology — may resolve this issue, as well. Several new products have been designed to lull us to sleep, to monitor whether we are turning or not and even to check the quality of the mattress we sleep on. Here is a set of some useful devices to help you get more Z's.
1. Beddit Sleep Monitor ($149)
Beddit Sleep Monitor
Beddit Sleep Monitor is an app for Android and iOS devices that keeps track of your sleep. It works due to the connection between a thin strip under your mattress and your phone over Bluetooth. The ultra-thin force sensor of that strip measures your heart rate, breathing frequency, sleep cycles according to your movements and overall sleep time. In the morning, you see all summarized information in a personal Sleep Score and get some tips on how to sleep better. This sleep monitor is easy to set up and use. Moreover, it has a game element to it that makes you enjoy the process of sleep control.
2. Withings Aura ($300)
Withings Aura
Withings Aura is more than just an app. It is an active system that combines a contact-free sleep sencor, a bedside device and a mobile application. A sleep sencor is tucked under the mattress where it can track men's sleep patterns. A bedside device with a very stylish design performs the light and sound programs which are designed to provide a stress-free falling-asleep and wake-up experience. Narrow blue and red lights in those programs are thought to help reduce or increase the melatonin in your body responsible for the sleep-wake cycle. Withings Aura also offers you a function of personal body clock, when your organism may wake up at the best time for it.
3. ResMed S+ ($150)
ResMed S+
ResMed S+ is a usual non-contact system that also helps to analyze and improve your sleep. The specific feature of this aid is that it may play natural sounds (like an ocean wave or a gurgling brook) that are synchronized with your breathing. Undoubtedly, these sounds help set the right mood before the bedtime. I also have to say that in contrast to the previous devices, ResMed S+ analyzes the results against averages for your age and gender and just then provides a personalized and actionable daily feedback.
4. Epson Pulsense PS-500 ($200)
Epson Pulsense PS-500
Epson Pulsense PS-500 is an activity tracking watch which you wear at the wrist 24/7. It monitors your heart rate and takes notice of your movements to determine whether you are sleeping deeply enough. Unlike other products in this roundup, you can sync the watch to your computer and avoid losing important information. Pulsense PS-500 also offers extra features. For example, during the day you can count steps and calories burned.
5. Kingsdown Sleep Smart Intuitive ($10,999)
Kingsdown Sleep Smart Intuitive
The Kingsdown Sleep Smart Intuitive mattress fires people's imagination. It looks like a mattress of a new generation because it gives proactive and customized support. The smart mattress is designed to stay «awake» while you sleep and make adjustments to provide an ideal pressure relief personalized for you. The mattress has a massage mode and controls the head and feet position. Sleep Smart comes with an Android tablet and a custom app, presenting a daily summary of essential sleep statistics and sleep tips.