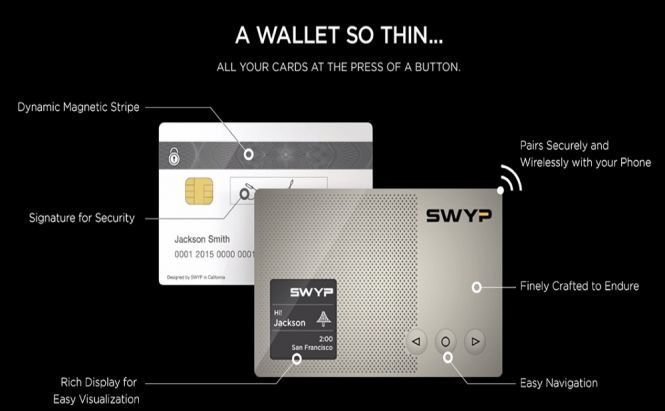 Swyp Unites All the Plastic Cards in One Device
The concept of Swyp is simple: you've got the device, an accompanying app on your smartphone and a card reader that fits into the jack of the smartphone. You add all the desired cards (either credit, gift or loyalty cards) to the app using the card reader and transfer the data to the device, which you can then use as any of the registered cards. The small screen and three buttons on the metal body allow you to switch between all of them.
The idea behind Swyp is not that brand new as it may seem at first. The product already has a number of competitors, including Coin and Plastic, however Swyp is said to be capable of storing up to 25 different card accounts, while Coin and Plastic can store only 8 and 20 respectively. Besides, the price you'll have to pay if you want to pre-order Swyp is considerably lower compared to the competitors: $49 against $100 for Coin and $155 for Plastic. Swyp also has a security feature which will prevent anyone from using your card, as it gets automatically blocked as soon as the associated smartphone is more than six feet away from the card. The feature can be disabled by a pre-set security code, allowing you to use the card to pay in a restaurant. The device is said to be working on rechargeable batteries, though we are not sure at the moment what the process of charging will look like.
We do not know when exactly will Swyp go on full-scale sale, but the estimated delivery date for the pre-ordered cards is the coming Fall. So, if you are tired of the plastic pile in your purse, you may consider buying the device. You can find more information on the website of the startup.