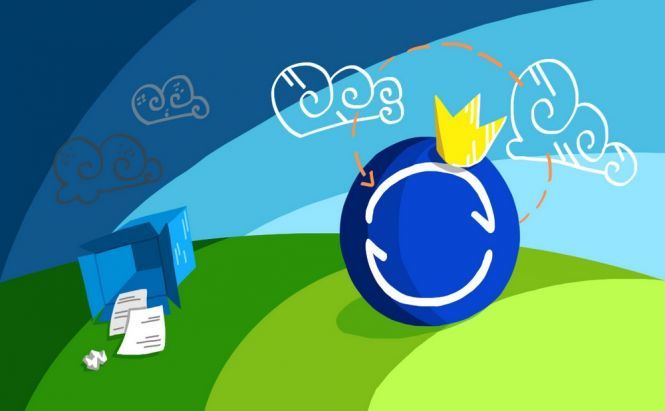 Syncing Without Limits or Why Should I Use BitTorrent Sync
I am absolutely sure that today no one needs the explanation of what a cloud service is. Cloud-based solutions have consolidated their power in our gadgets so firmly that they won't disappear soon. And it is fairly clear why: a cloud system is very convenient. If you have the Internet, once and for all, you forget about various cables and USB devices to sync your data. The only minus of cloud services is that your files are stored on an unknown server. If something happens with it, you might lose some important information. But don't get upset beforehand: there is a way out and it's called BitTorrent Sync.
Not quite a cloud service
At a glance, BitTorrent Sync looks a lot like Dropbox and Google Drive, but the service (strange though it might sound) doesn't deal with data storage in usual clouds. There works an entirely opposite paradigm of data sharing. It is a service where you sync files and directories across computers without saving the information on the remote server. And this is the fundamental difference between BitTorrent Sync and other file syncing programs. It doesn't mean that no server is used at all, its function is just minimized to produce a connection between devices.
BitTorrent Sync
A working algorithm
BitTorrent Sync uses peer-to-peer file sharing to synchronize files between computers. The biggest advantage of such protocol is the simplicity of transferring files of a large size. BitTorrent Sync checks given folders for new files independently and syncs them to your devices automatically. There are no limitations on size and speed.
Couldn't be easier
To start using BitTorrent Sync, you should access the official website of the company and download the client. It is available for all popular platforms (Windows, Mac, Android, iOS, and Linux).
***
Let's assume that you want to sync a folder on your PC to your Android tablet. There are few steps you have to take. Launch the BTSync program, press the Add Folder button, choose a target folder, and select the QR-code icon. Service uses 256-bit key for data encryption. Nobody can get your data without this secret key, so it's under sufficient protection.
On your tablet you should do the following: open the app, press the Add Folder button, scan the QR-code from the PC, and choose a folder to sync. It won't take you more than two minutes, but, as a result, all files from your PC folder will appear in your tablet folder. It's as easy as that. The synchronization process can be set between smart phones, PCs, and many other gadgets, but don't forget about the necessity of the Internet connection and remember that one of the devices must be on while syncing.
To sum it all up, the following key features help BitTorrent Sync stay highly competitive among other syncing programs:
1. an easy-to-use interface;
2. security-focused approach;
3. no third party servers;
4. no size limits (the only limits are your own hard drives);
5. file backup option;
6. absolutely free of charge.