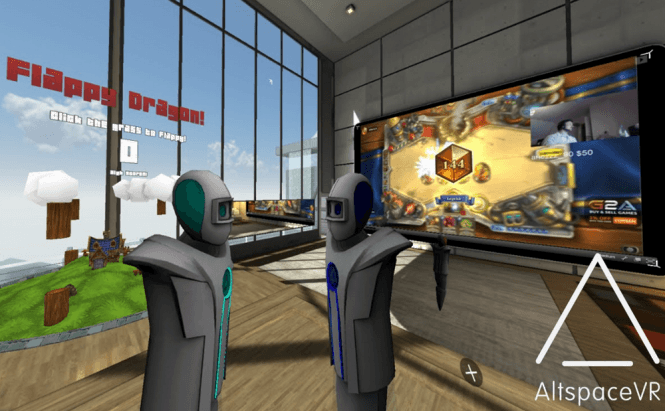 The AltspaceVR social platform is now available on Gear VR
There were many people who were afraid that once VR technology will become available, you won't be able to do that much with it, but that seems to become less and less of a problem with each passing day. Yesterday, we found out that Google may be working on a live 360-degree feature for YouTube, and today AltspaceVR has just launched its social network on Samsung Gear VR. Though the service looks like it still has a bit to go until it reaches its full potential, AltspaceVR is still one of the coolest things that currently exist in virtual reality.
In case you're curios about what AltspaceVR has to offer, I can tell you that the service can be a lot of fun. Inside, there are several virtual environments where you can play board games and quiz games with other people connected to the virtual reality world. There are also some more laid-back activities such as watching YouTube videos together, navigating the Internet together (in a built-in web browser) or simply communicating with each other. Talking about this launch, AltspaceVR Founder and CEO Eric Romo stated: "Our focus at AltspaceVR is creating the most natural and fulfilling communication experience possible online, and we're thrilled to bring it to Gear VR. [..] AltspaceVR on Gear VR brings nearly all the features of our PC experience, but with the ease of use of mobile."
What's really cool is that AltspaceVR is (as far I know) the first cross-platform social hub in the VR world. The service was already available for some desktop-dependent virtual reality headsets and has now opened its gates for the mobile users as well. Hopefully, it won't take very long before AtlspaceVR becomes available on every virtual reality device out there, giving us all a cool place to hang out.
In case you don't have a Samsung Gear VR gadget, but instead own a Google Cardboard headset, you should check out my previous article: "Top 6 VR games for iPhones".