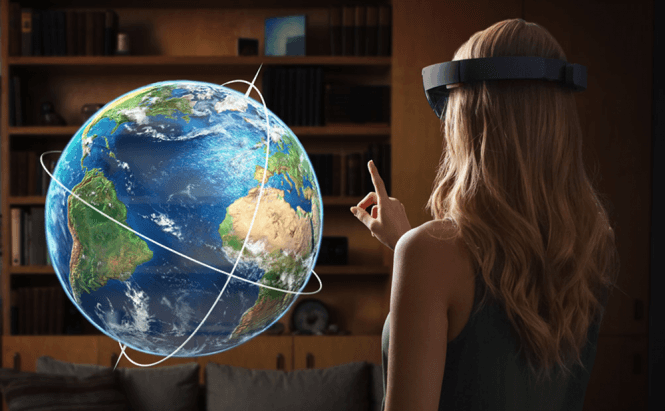 All You Need To Know About Microsoft HoloLens
At the latest press event in Cupertino, Microsoft shocked the entire audience with its new HoloLens project. Generally, I get a bit excited about most of the new stuff I see, but after a while I start realizing that the product is something that I would never really need. However, this was not the case. HoloLens is an amazing gadget based on a very impressive concept.
What is it?
HoloLens is an augmented reality headset which produces 3D images that only the user can see. Although Microsoft calls those holograms, the term suggests a 3D image that can be seen by lots of people simultaneously, so augmented reality is more accurate. Nevertheless, I can understand why Microsoft doesn't want to use the term augmented reality, since Google ruined it for everybody.
HoloLens Design
Basically, HoloLens is a pair of glasses which takes images from your computer and shows it to you in 3D. Furthermore, the system takes into account the environment that surrounds you (walls, furniture, etc.), enabling you to play games on a coffee table, or use the wall as a screen and allow observing the images from different angles as you walk around the room. The device can be operated through voice control (Cortana integration) and gestures (the same as with Kinect). Even though I heard a lot of people complaining about the gestures thing, stating that no one likes to wave their hands in the air, for me it seems to be the most natural way to control the device.
Is it different from all the other augmented reality devices we've seen?
The answer to that question is yes... and no. It differs from every other product of the kind that we know of. However, there is one device that is very similar, at least in its objectives, but we will talk about that in a jiffy.
Google Glass - is actually quite different compared to HoloLens. In its (I dare say) classical style, Google went a bit too far by trying to make the Glass something that people would wear all the time, which turned out to be a disaster. The device wasn't completely safe (a lot of people complained about headaches and other problems after using them) and the design wasn't very good, so there were lots of people, who never considered wearing the Glass in their day-to-day lives. Microsoft, on the other hand, is taking a more careful approach, saying that the HoloLens is a product that you only wear for a limited period of time, in your house, around the computer.
Oculus Rift - is also very different. For starters, the HoloLens lets you see the real world around you, blending virtual and real images, whereas with Oculus Rift you only see the images the device creates. Secondly, the concept itself is different: while Facebook's Oculus tries to place you into a completely different reality, Microsoft's headset is designed to place the virtual reality into the real world. Even though Microsoft's device can also be used as a means for entertainment, the HoloLens is mostly designed to have practical applications, whilst the Oculus Rift is primarily designed for having fun.
Magic Leap - many of you might have never heard this name before and that's no surprise, as the recently founded company is operating in stealth mode. However, from what we've learned so far, the startup received a whooping $542 million from the big wigs like Google (the mother company, not Google Ventures) and Qualcomm to create its own augmented reality headset, an amped up version of Google Glass. Since the concept behind it is quite similar to HoloLens (blend computer generated images with the real world) I'm pretty curious to see what's going to happen next with the company.
What does HoloLens do?
Unfortunately, I didn't manage to visit the press event where the HoloLens was introduced, so I didn't get to test it out personally. However, according to Microsoft's presentation and videos, the headset is capable of some pretty amazing things. Let's take them one at a time:
HoloLens Functionality
Building 3D objects - the HoloLens includes a 3D modeling suite called the HoloStudio. According to Microsoft, this app will allow building anything (from Koalas to Drones or X-Wing Fighters) in a matter of minutes. What makes the experience even more awesome, is that after you completed your project you can sent it directly to a 3D printer and quickly turn the virtual image you were working on into reality. Personally I think, that this is pretty amazing, as just a few years ago the idea would seem like something out a Sci-Fi movie.
HoloLens Assistance
Collaboration and support - another useful purpose for the HoloLens is getting real time instructions on how to do various things, like changing a pipe under your sink, switching fusses, fixing engines, etc. The headset provides users with a special version of Skype with the person on the other end of the call seeing exactly what you see through the device. This makes it very easy for him or her to talk you through everything you need to do in order to complete any challenging task. Furthermore, the assistant can even use annotations and visual aids to show you exactly what you need to do.
HoloLens Entertainment
Gaming - I don't think I need to say too much about how cool it is to see your games as a 3D reality that surrounds you. And even though I'm not actually a fan of Minecraft, I would still really enjoy the game if the playing field was the actual table in my living room. In the presentation, the player used voice commands to change the tools he was using, and air tapping to influence the environment (break blocks, build, etc).
HoloLens Mars
Holographic representation - according to most of those who were at the event, this was the best part of the presentation. Microsoft collaborated with NASA's Jet Propulsion Laboratory to create a holographic version of Mars. The functionality includes a collaboration feature that enables you to see the avatars of the other people that are with you in the hologram and lets you communicate with them. Furthermore, the holographic representation is actually better than simply looking at high resolution photos as it immerses you into the scenery. It overlays multiple images, thus creating depth and enabling natural scene shifting when you walk around. Why is it great? Just think of all the places you wanted to visit, but never got an opportunity and then imagine being able to explore the places right in your living room.
When will it hit the markets?
When I first reported about the HoloLens, I stated that the gadget would become available in two years at the most, but I think I was wrong. Microsoft announced that a consumer-grade version of the headset will be launched during the Windows 10 period. So in other words, if the IT giant decides to maintain support for its upcoming version of Windows for the next 10 years, it could actually take as long as that. But let's not be pessimistic, the HoloLens is amazing and I hope to get my hands on it as soon as possible.