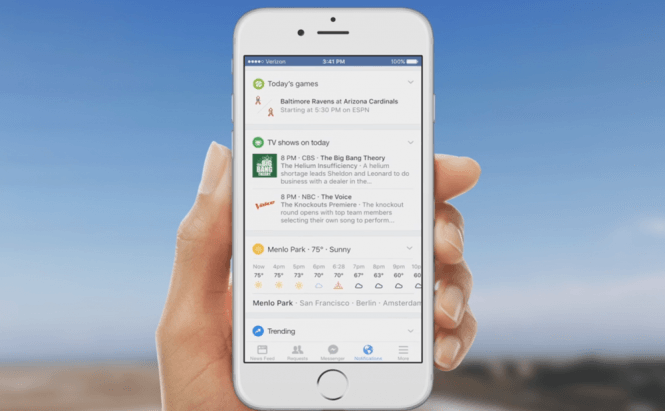 Facebook to replace notifications with cards
After recently introducing its Instant Articles feature and adding a universal search function, Facebook perseveres in its quest to swallow up the Internet and make sure that you don't ever need to leave its website. The company has recently announced in a blog post that they've just stolen a page from Google's playbook and replaced the usual notifications with contextual cards. This change has already started to roll out on both the Android and the iOS versions of the app, but only for the users in the United States. Unfortunately, there is no official news about when this update will be extended to the rest of the world.
These new contextual cards will offer you notifications related to the social network, such as mentions and tags, but also about real life things such as birthdays, appointments or other calendar events. From the way Facebook describes the cards' functionality I understand that they can even notify you about when your favorite team is playing or when your favorite show is on TV. Moreover, you can also choose to receive contextual cards that are related to the region you're living in, and be notified about the best places to eat, movies currently running at a cinema or the weather.
According to Facebook, the average user should see somewhere between 5 and 7 cards, but you can always add more by tapping the Add More Cards button from the bottom of the tab. To customize the cards that you are receiving simply tap the arrow from the right-side of each card and change the configurations to match your requirements.