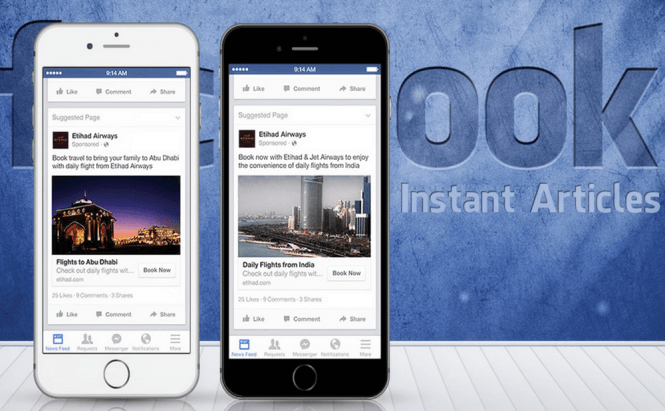 Facebook's Instant Articles started rolling out on iOS
After testing the feature out on a select number of news publishers for about five months, Facebook has decided to make Instant Articles available to all the iOS users. This means that from now on, if you're using the Facebook app on an iPhone or iPad, full news stories will load directly into the application. As a result, the articles will load much faster and you will be provided with more immersive overall experience. Furthermore, the news writers will also be able to embed videos, geotagged photos (images that when tapped lead to a map) and slideshows directly into the Instant Articles.
"Starting today, people will see a lightning bolt on the top right corner of some stories shared in News Feed. The lightning bolt indicates it's an Instant Article. When you tap the story, it loads ten times faster than a standard mobile web article", wrote the blog post which announced the change. Moreover, with the addition of Instant Articles, Facebook also expanded its list of partners, which now includes popular publications like "The New York Times", "National Geographic", "The Washington Post" and many others.
Instant Articles
Furthermore, there's another ramification that some of you may actually like. Since the Instant Articles tests turned out to be successful enough to become a mainstream feature, Canvas ads or "Instant Ads" as the guys from TechCrunch call them, will most likely soon follow. Basically, the same principle applies (the full ad is displayed inside the Facebook app which means that all its galleries, GIFs, videos, etc. load way faster), and since social network will make a lot of money from them, there's no reason to think that will not soon become a part of the Facebook app. You can find more details about this topic by reading "Facebook for iOS updated with 3D Touch support and more".