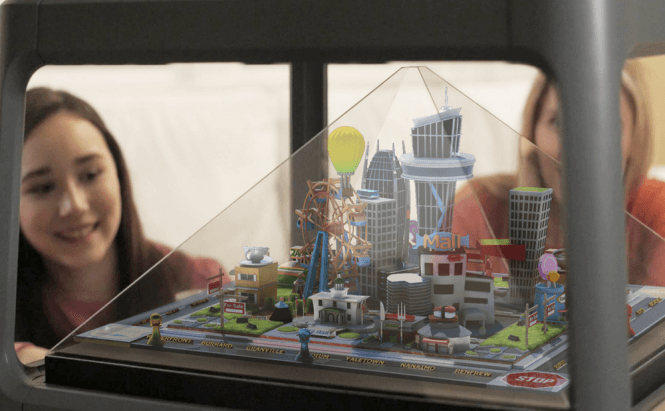 Holus - a Gadget that Turns Digital Media into Holograms
Nowadays, displays are getting more awesome each day with 4K and 8K resolution or 3D technology, but after a certain point they can get a little bit boring. Furthermore, even if you improve them, the new technology will only make things interesting for a few days until plunging right back into normality. However, a company from Vancouver stated that H+ Technology may have a better solution. Its prototype, Holus is a device that can turn 2D digital content into seemingly 3D holograms. Don't get me wrong, the holograms created aren't 3D in the traditional sense: you can't actually see the back of the images. However, the hologram will appear to be a 3D image viewed from the front, no matter what angle you're watching from.
Video Calls with Holus
The project has just made its appearance on the KickStarter web page and managed to raise twice their goal amount of $50,000 in less than 2 hours. At the moment, with 29 days left to go, their prototype gathered a little over $155,000, so I would venture to guess that a lot of people are pretty interested in backing it up. According to the company, the first Holus devices should start shipping out by the second quarter of 2016 and their retail price will be approximately $850. (Those who have already preordered (early birds) got a discount, but the stock was limited and they're all sold out.) The product will come in two versions: Holus Home and Holus Pro. The second one isn't only bigger, but also contains a SDK kit so that developers can create their own apps for the device. Currently, the SDK supports game engines such as Unreal or Unity and can work with a couple of plugins like Leap Motion (motion control) or Occipital (3D scanning).
In case you're wondering if the device actually works, the company has already demonstrated a fully-functional prototype at a recent conference. Furthermore, there is also a huge (room-sized) version of Holus installed at the BC Ronald McDonald House which entertains the children who are staying there with interactive holograms.
If you want to check out the Holus KickStarter page by yourself, you can do so by clicking on this link.