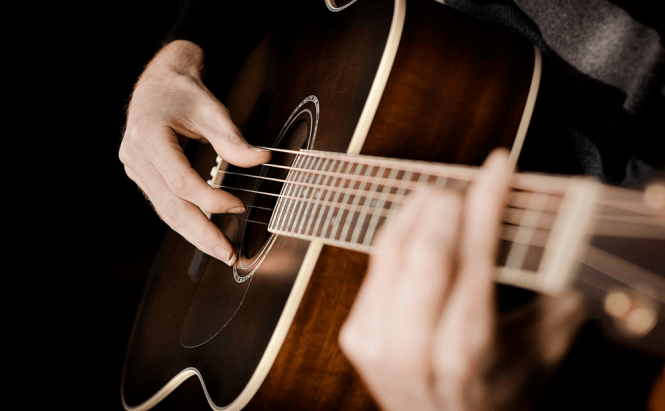 Learn how to play guitar without a tutor
I guess there are a lot of practical reasons why one would want to learn to play the guitar. It's much easier to purchase and move around than a piano or a set of drums, what you play will sound good enough to listen to sooner than it would on most other instruments, and excepting lead singers, guitar players usually get the most attention from girls. The good news is that if you have your mind set on learning to play the guitar, you can become a pretty good guitarist even without a tutor. Here are some apps that will help you learn or improve your guitar playing skills, no matter what device you may have at hand:
Windows
Rocksmith
Rocksmith
Rocksmith is probably the most popular guitar learning application / game. This software is great for beginners and medium players, as it will not only help you learn the basics, but also prove to be incredibly fun. Unfortunately for some of you, the tool only works for electric guitars. In order to play you will need a guitar and a special chord which connects the instrument to your PC. Rocksmith lets you choose from a variety of well-known tunes (with various difficulty levels), and the object of the game is to play the guitar by following the indications on your screen as closely as possible. The application costs $80, but it's actually worth every penny. I have several friends who first learned to play the guitar using Rocksmith, so I can guarantee that it actually works.
Rock Prodigy
Rock Prodigy
Rock Prodigy is an interactive application that will successfully replace a guitar tutor. Even though it could be used by complete beginners, in my experience, this tool is the best for those who already have a clue (even if it's a vague one) about how to play the guitar. The application includes lots of music theory notes, which you will find is absolutely necessary to play tunes on your own. Just like Rocksmith, Rock Prodigy will offer you interactive courses by allowing you to connect your guitar to the PC and giving you a pattern to follow.
Mac
ChordMate
ChordMate
One of the biggest parts of learning how to play the guitar is knowing the chords and the right fingering to use for various transitions. ChordMate is a great application to teach you all of this and more. The software doesn't only come with a huge library of chords, but also helps you create (your own) progressions which will actually sound good (very handy in case you're thinking about coming up with your own songs or altering ones that you already know). This application isn't very interactive, so it won't make learning and practicing fun, but if you're end-goal is to be able to write your own songs, then you should really try it out.
Capo
Capo
Capo is a truly awesome application, but you need to have some guitar playing behind your belt in order to use it effectively. This tool is actually great for those trying to figure out how to play their favorite songs on the guitar, as it can help them slow down and dissect any song in their iTunes library. Furthermore, Capo also comes with a smart tabulature editor, pitch controls and even a spectogram. What I found to be really useful is the fact that the application can tell you exactly what chord is playing during any given time, so if you're having trouble identifying or mimicking a sound, this tool can help you out.
Android
Learn Guitar Chords
Learn Guitar Chords
To be totally honest, Learn Guitar Chords isn't exactly my favorite app in the whole wide world, but a lot of my friends have said it was quite helpful to them, so I felt compelled to mention it. This tool is useful to beginners and novices, as it can teach them how to play the most commonly used chords. The application features authentic guitar sounds and is a great way to practice the basics. One of the biggest advantages for Learn Guitar Chords is that it can be used for both electric and acoustic guitars.
Jamstar Acoustic - Learn Guitar
Jamstar Acoustic - Learn Guitar
Jamstar Acoustic is an interactive app that helps you learn and improve your guitar skills by listening to the sounds you make when playing your instrument. The application can teach you a lot about chords, scales or rhythm and offers a handy tuner which will help you tune your guitar by providing string-by-string instructions. What I like the most about Jamstar Acoustic is that it shows you how to play some truly great songs from The Beatles, Led Zeppelin, R.E.M., etc. Another cool thing is that the app provides real-time feedback on your singing.
iOS
Yousician Guitar - The ultimate tab game
Yousician Guitar - The ultimate tab game
Right up there with Rocksmith, Yousician Guitar - The ultimate tab game is one of the best guitar learning apps you will ever use. This application turns learning into a fun game and works with both acoustic and electric guitars, as it doesn't require a cable connection. The app listens to you play and allows moving on to the next section only if you sang correctly. What's really cool is that Yousician Guitar doesn't only tell you (in real-time) when you made a mistake, but also offers you pointers about how to correct that problem. The app includes over 1,500 levels, and more are being added each week, so by the time you're done with it you should be somewhere between an advanced and professional guitar player.
Guitar Jam Tracks - Scale Trainer & Practice Buddy
Guitar Jam Tracks
The pentatonic scale is something that every guitar player worth his / her salt needs to master, and Guitar Jam Tracks - Scale Trainer & Practice Buddy is just the right tool to help you with that. This app teaches you all you need to know about the pentatonic scales and helps you master them by creating an accompaniment for your practice sessions. If you're planning on becoming a great soloist like Jimmy Hendrix, David Gilmour, etc., then this application will be a tremendous help along your way.
As you can see, no matter what devices you might be using, there are plenty of great tools to help you learn to play the guitar. Just pick up your guitar, choose one of the applications from this list and start your musical journey as a self-thought guitarist. Always keep in mind that it's going to take patience, perseverance and a lot of finger blisters before you'll be able to play an entire song head to finish.