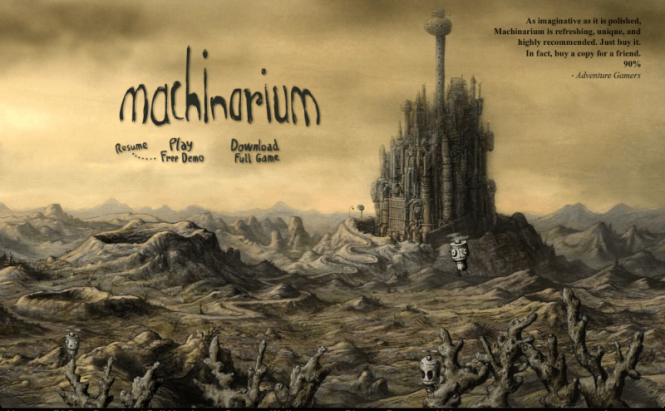 Machinarium
I like puzzles, but I get extremely bored with puzzles that exhibit properties of endlessness and mystery: when you match the objects in Bejeweled and they disappear, where do the new ones come from? Are they falling down from a bottomless barrel elegantly hidden from the player's view? However, there is a game where you get to solve various puzzles to actually reach the end of the game, where you successfully save the world. This game is called Machinarium.
Level 1.
This Flash-based game was developed in Czech Republic by Amanita Design, the video game development company founded in 2003 by Jakub Dvorsky. Machinarium was released in 2009 and is available on multiple platforms, including Windows, Linux, Mac OS X, PS3, iOS (iPad), and Android. The game is, essentially, a "point-and-click" adventure with various puzzles and brainteasers along the hero's way until the point in the game where the 'Happy Ending' is inevitable but short.
Level 2.
There are no spoken or written human words in the game's universe. But everything is conveyed clearly through animated illustrations inside thought bubbles or action pictures in the walkthrough book. Each of the 29 levels of the game includes a hint and the walkthrough of what should be done on that particular screen. A hint is an obscure picture of the screen's ultimate action-goal; while the walkthrough book reveals sequences of things the robot has to perform, but it requires you to play a little arcade game each time you wish to look something up. The developers also urge you to use it only when you are "really stuck".
Machinarium: Thought Bubbles
Level 3.
As you progress through the screens in the game, the puzzles become harder and the hints become more obscure; but you also get to find out the story behind Josef's (that's the name of the robot) unfortunate fate that led him to end up on top of a junk pile. The game comes with a happy ending, but not for a long time: the developers added a twist to the happy ending that makes a sequel possible and much desirable – to find out what happens with our heroes, you've got to play the game!
Machinarium: Walkthrough Challenge
Level 4.
Music and sound effects are an essential attribute of any modern game. Machinarium was designed to satisfy you on all fronts: from the outstanding plot to the well-animated universe with its villains and heroes to the background music that entertains your ears. Almost each screen features its own musical theme... and those themes are so good that Amanita Design includes links for you to download the Machinarium Soundtrack when you purchase the game! This soundtrack earned PC Gamer's Best Soundtrack award in 2009 for Tomáš Dvořák, the composer of the tracks. It is really good! Mr. Handagote is my favorite track of all 19 tracks available for download.
Machinarium Soundtrack Cover
Level 5.
Machinarium is rather inexpensive, costing only 10 dollars for the digital download. The purchase allows you to download Windows, Linux, and Mac OS versions of the game, along with the soundtrack to the game. It is a fair price, well maybe a little bit lower than fair, for what you are getting: outstanding music (Level 4), a game of decent length with its beautiful and highly artistic 29 screens, as well as puzzle variety (Level 2), a heartbreaking storyline (Level 3), and availability on a wide range of devices (Level 1). It was made to become a hit!
Machinarium: Plaza
Level 6.
I enjoyed playing the game very much. I did get stuck in some places, but I did enjoy trying to solve the puzzles myself. Did I use walkthrough book or hints? Of course, but it didn't diminish the value I received from playing the game since the walkthroughs were becoming increasingly ambiguous and only showed what's relevant for the current screen, while I might have objects that were necessary for other areas of the universe. So even with the developers' help, the game is still a challenge and will spin gears in your head like crazy!
Machinarium: Walkthrough Book
Level 7.
There is a demo available for you to try before you buy the game. You can check it out by following this link: Machinarium Demo.
I hope that you will like the game, purchase it (in other words support the developers' efforts), and share your opinion, thoughts, experience playing Machinarium. Happy playing, everyone.