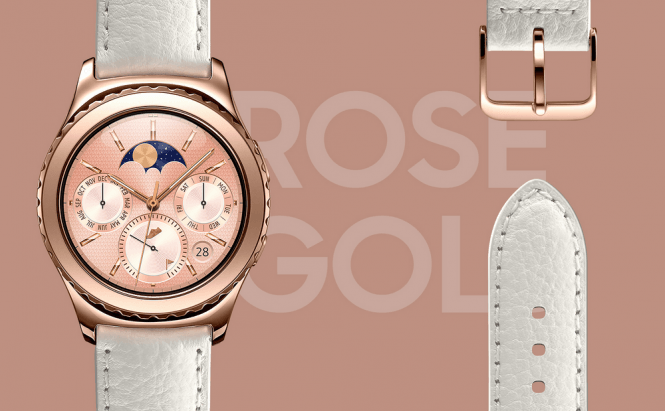 Gear S2 Classic, Samsung's gold plated watch will cost $520
Samsung has just officially announced that the gold-plated version of the Gear S2 smartwatch will arrive first to China, then go to other markets around the world. While it's going to cost significantly less than the gold Apple Watch (currently priced at $10,000), it will still be pretty expensive for the average customer. Despite the fact that the official price wasn't yet announced, a European site has already made the gold-plated smartwatch available for preorder and it's priced at €480, which is approximately $520. The Samsung Gear S2 Classic Rose Gold sports a case that is made from a mix of 18 karat gold and cooper. Additionally, there's also Samsung Gear S2 Classic Platinum, which features a case made entirely from platinum and is priced the same as the gold one.
Samsung Gear S2 Classic Rose Gold
Another interesting thing is that these new versions of Gear S2 aren't powered by Android Wear, but by Samsung's own operating system: Tizen OS. Even though the two platforms are similar in many aspects, there aren't as many apps for Tizen as there are for Android Wear and that may cause some problems for the users. Additional features include heart-rate monitoring capabilities, calories tracker, steps tracker and the ability to play the music or view the photo from your phone.
If you're interested in more products created by Samsung, you might want to check out the latest rumors and leaks regarding the Galaxy S7 smartphone or take a look at the second generation of the ATIV Book 9 Lite.