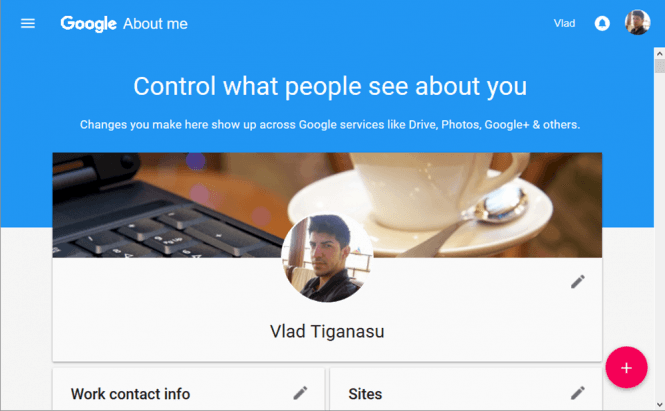 Manage what others can see with Google's About Me page
Google has quietly launched a new tool to help you gain some more control over your online privacy. With the About Me page you can easily manage the information that other people can see about you when they search you via Google's services. I must admit that this is a pretty cool initiative, but what's really interesting is the glimpse that you get into the "mountains" of data that the IT giant stores about each of its users. You should also know that the page just started rolling out this week and I don't think that it's fully ready yet, as I encountered errors on a few of the available functions.
By using Google's new About Me page you can make your contact info (email, phone number, etc.) available to everyone, to just those in your circles, or completely privately. You can also create a custom list and manually choose those who can see it. Furthermore, you can control who can see your other personal information such as the city you live in, your workplace, your date of birth, the school you graduated from, or the websites that you posted on your G+ account. Lastly, you can use this page to quickly get to your main Google privacy settings and decide who can contact you, who can see your YouTube activity, etc.
The thing to take away from all this is that Google knows pretty much all there is to know about you. Up until a few years ago that information was split into pieces, but the IT giant has since attempted to enter the social networks market with G+ and it has gathered all your data from searches, Gmail, YouTube, Google Docs and any other Google services that you use into one single place. Moreover, as if all that wasn't enough, Google may soon also want your offline data as well. The good news is that in recent months, the IT giant has at least started to share information with its clients allowing those who use Google Maps to see a history of the places they've visited, and letting people download their entire Google Search history.
If you're worried that your privacy is being violated, you might want to read Nordine's article: "How to Stop Google from Tracking Your Every Move on the Web".