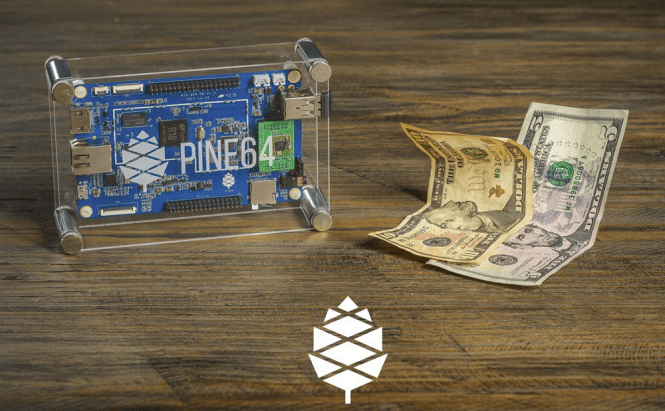 Raspberry Pi watch out: the $15 Pine 64 is here at last
If someone told you 15 years ago that by 2016 people will be able to buy a powerful 64-bit computer for less than they spend on a pizza, you would have never believed it. Yet, one of the most backed Kickstarter projects: the Pine 64 has finally begun shipping out. The out-of-stock $15 model of Pine 64 has arrived or is en route to its customers, while the other two versions of the product (the $19 and $29 builds) can still be pre-ordered and should arrive sometime this May.
Although I haven't had a chance to test it just yet, on paper, Pine 64 seems to offer the same performance as the popular Raspberry, but for less money. What's even more impressive, Pine 64's graphic capabilities are actually better as the newer ARM Mali 400 MP2 GPU is able to render 4K videos. From what I've read, the only downside is that the $15 device only offers two USB ports, while the Raspberry Pi provides three.
In case you're unfamiliar with the topic, like the Raspberry PI, the Pine 64 is a single-board mini computer that can conveniently replace the need for a PC and help you save a lot of money. Of course it's not as powerful as a full-fledged gaming computer, but the product embeds a 64-bit ARM-based Cortex A53 CPU, ports for HDMI and Ethernet as well as support for MicroSD cards. The $15 build comes with just 512 MB of DDR3, the $19 model sports 1GB of RAM, an MIPI port and a 5 MP camera slot, while the expensive $29 build provides 2GB of DDR3 and WiFi support. All the three models can run on Remix OS, Android or Linux. If you would like to order one, you can do so from the product's official website.
In case you want to read about more interesting devices, you should take a look at this new laptop shell that turns your smartphone into a PC or check out how the "TieFi Helps Dads Everywhere Keep Their Kids Closer".