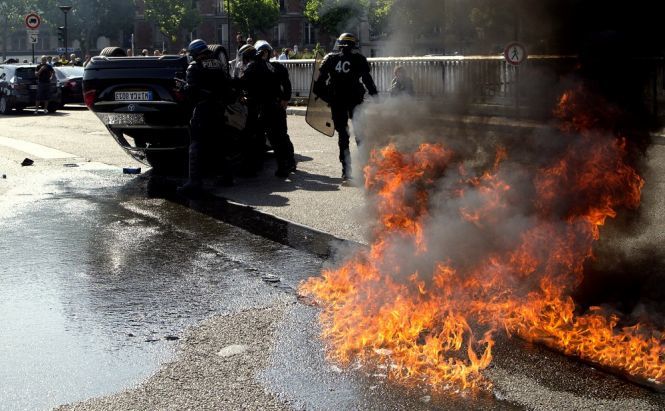 Taxi vs Uber: A Protest Turned into a Riot
Yesterday things went pretty bad in Paris, where 2,800 taxi drivers (according to police reports) came out to strike against the on-demand car service. Taxi cars blocked many roads in Paris, including the ones that lead to Charles-De-Gaulle and Orly airports. Everything went out of control when cabbies started attacking the users of UberPOP, a service that allows anyone become an Uber driver.
Officially, UberPOP is currently illegal as a service in France, and whenever the police catch an Uber driver the company pays the fine. The app, however, is still out there and anyone can order a car. The problem is that, to make the app illegal, the government needs an official court order, but as no French court of justice has yet declared UberPOP illegal, the service still lives and remains very popular. And it's no wonder, as an average taxi ride is twice as expensive as Uber.
Taxi drivers are going berserk as they are being pushed out of the market and cannot make enough money to earn a living. Multiple reports suggest that the protest went completely out of control. Courtney Love twitted: "They've ambushed our car and are holding our driver hostage. They're beating the cars with metal bats. This is France? I'm safer in Baghdad."
French government is trying to stop the violence. Interior Minister Bernard Cazeneuve said that the cars using UberPOP will be "systematically seized" if noticed operating. Riot police is out in the city trying to calm down the protesters who throw stones, projectiles and turn Uber cars upside down. CNN reports that Thomas Meister, a spokesperson for Uber, told in the interview to CNN that "the violence is just unacceptable. We're talking about a small minority, totally reluctant to (accept) any sort of change." At the moment the company is in the middle of a legal battle and does all it can to preserve the service. The French President Francois Hollande also says that violence is unacceptable but expresses sympathy towards the protestors: "You can understand that there's exasperation, because it's already been going on for months, and the court decisions are slow to come." Hollande also said that UberPOP "doesn't respect any laws."
Meanwhile, there is no sign that the protests are going to cease, so things need to be brought under control before more casualties occur. According to CNN, French court is yet to announce the decision as for UberPOP.
VIA: CNN