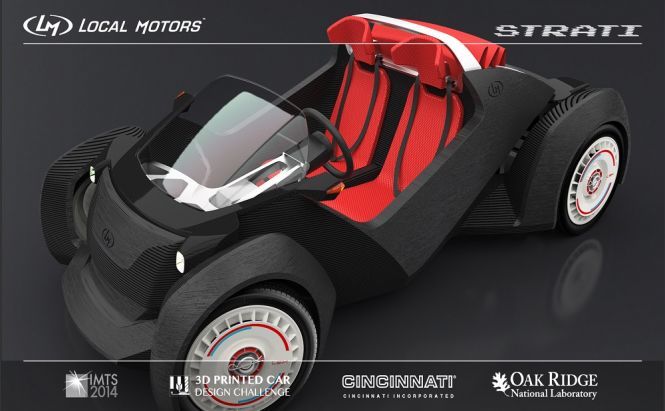 The First 3D Printed Car in the World
IMTS is the largest annual manufacturing technology show in the United States that takes place at McCormick Place in Chicago. Organized by the Association for Manufacturing Technologies, this year's event will start on September 8 and will last for six days, featuring numerous advanced tech projects, but the staple of the show is large-scale additive manufacturing (aka 3D printing).
Thanks to the efforts of U.S. Department of Energy's Manufacturing Demonstration Facility at Oak Ridge National Laboratory, the first ever drivable 3D printed car will be printed in one piece over the course of 44 hours with the help of Direct Digital Manufacturing. Other components for the car will be provided by different manufacturers, including Renault. Starti (this is the name of the car) will come out of a BAAM machine (Big Area Additive Manufacturing) and then assembled by Local Motors. After that, on Saturday morning, September 13, the first test drive will take place.
Naturally, we will sooner get an iPad delivered to our doorstep than have a possibility to print a Jaguar for ourselves. Nevertheless, Local Motors says that they are planning to launch production of 3D printed cars for anyone to buy; anyone who has enough money, of course. It would be a rather bold statement to claim that 3D printing will revolutionize the industry the same way the introduction of Ford's assembly line did a century ago, but it surely has the potential to do so.