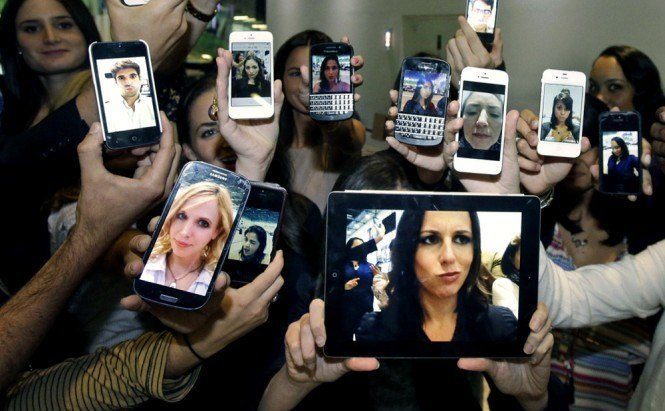 Take the Process of Snapping Selfies to the Next Level
Selfie, a 'word of the year 2013' according to the Oxford English Dictionary, became an important part of modern social life, especially among young people. These self-portrait photographs are usually made by smartphones and further shared with other people via various social networks. It's difficult to explain the real purpose of selfies: for example, some people aim at demonstrating their incredible look to others and get as much Instagram likes as possible, other people just got nobody around to take a photo of them. However, the main idea, as it seems to me, is to replace the ordinary texting by sharing photos with short notes on it. Not any emoticon can show your current facial expression, so why don't we replace them with instant photos of ourselves?
The popularity of taking selfies still grows rapidly and almost every week you can notice funny or sad news dealing with self-portraits. 'Funny news', for example, implies koalas at the Wild Life Sydney Zoo, snapping selfies using a Sony camera, equipped with a lens on a movable tripod claw, or photos taken by astronaut Steven Swanson on the International Space Station. As for sad cases, quite often people seem to go mad trying to find an extreme background for a snap (such as a moving train) or just making hundreds of attempts to become satisfied with the result; at times it comes to no good. But in spite of all the well-known outcomes of such addiction, modern developers do fare-the-well to fit the needs of selfie-maniacs.
Nokia Superman: a Selfie-Friendly Windows Phone
Microsoft has recently announced a new smartphone built especially for making enhanced selfies, Nokia Superman. It is expected to come with a 5-megapixel front facing camera and an extended support for gesture recognition. You may wonder what's new about it since the HTC One M8 already features these five megapixels. Well, the benefit of the Superman will be its affordable price – reports mention it as a mid-range phone. This 4.7-inch handset is expected to be released towards the end of the year.
Nokia Superman
iSelfie: a Wireless Remote Selfie Camera for iOS
For those selfie-lovers who find holding the phone at arm's length not very comfortable, there is a rumored iOS app, iSelfie, available for free download. According to the developers' description, it is 'the world first app that wireless connect 2 iOS devices together, to remote take picture with camera preview on your hand'. One phone acts as a camera host, another one - as a remote controller, connected to the former using Bluetooth or WiFi. The remote controller allows to preview and make a shot using the back camera of the host. So, it seems that this app will help its users forget about such common problems as poor quality of photos or 'an arm in the picture'.
iSelfie app
Selfy: a Smartphone Case with Wireless Camera Shutter
However, the majority of users don't carry two phones at the same time, and this application thus loses its sense. Another worthy way to improve your selfie quality is to use a special phone case. iLuv Creative Technology introduces its Selfy case for Samsung Galaxy and iPhone 5 and 5s. It will not only protect your phone, but will enable you to control the camera using the remote that is mounted into the back of the case but can be easily extracted at any point. Just launch the camera, place the phone horizontally (the case is thick enough to be stable), stand in front of it and push the button. Ta-da! You have a splendid selfie to show to your friends!
S.E.L.F.I.E.: a Smart Mirror
Those who think that a casual smartphone is too prosy for taking selfies, probably will be impressed by the mirror able to automatically take snaps. Meet S.E.L.F.I.E., the "The Self Enhancing Live Feed Image Engine" by digital agency iStrategyLabs. Nothing is magical in its work: there is a Mac mini powering the facial recognition software hidden behind the 2-way-mirror. Triggered by simply standing in front of the mirror and holding a smile, hidden LED's indicate a countdown, then simulate a "flash" as your photo is ready. You will instantly get a new photo with a logo right to your phone.