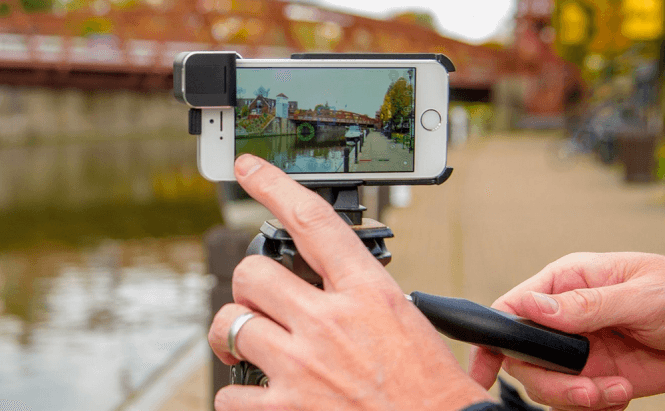 Top 5 interesting video recording apps for iOS
The iPhone camera is a great piece of technology, being one of the best available on the market. Furthermore, if you're into video recording, there are a lot of very cool apps that allow you to take you full advantage of the camera's potential and offer you some interesting options that you didn't think you have. Don't get me wrong, the standard video recording tool is pretty good for everyday users, but if making videos and movies is one of your hobbies, and you want something really different or of very high quality, you need additional applications. Here are some of the most interesting iPhone apps for those truly into video recordings.
MoviePro ($4.99)
MoviePro
In my opinion, one of the best professional video recording apps, MoviePro brings its users a wealth of handy features. For starters, if you're using iOS 8, the application gives you full control over such aspects as Exposure, Focus, Color Temperature, Tint adjustments, White balance, etc. Another big plus is that the tool can capture 8MP stills from the video while you are recording it. MoviePro also allows you to record the sound in uncompressed audio formats (high-quality) and manually control the external mic volume, but you can also choose to record videos in silent mode as well. Additionally, there are a lot of resolutions and frame-rates to choose from (depending on the type of iPhone you have), a spy mode for sticky situations and a lot of video editing options.
FiLMiC Pro ($7.99)
FiLMiC Pro
Another app intended for those who try to obtain professional-looking videos, FiLMiC Pro was the tool used for shooting the movie Tangerine. The application offers manual control for Temperature, Tint, Exposure, Focus, Pulling Focus, Shutter Speed, ISO, etc. and somewhere around a dozen resolution options including Cinemascope (2.59:1), 17:9 Digital Cinema Initiative (2K) or 1:1 Square resolutions for Instagrammers. FiLMiC Pro also provides support for third-party hardware such as 35 mm lens adapters, Moondog Labs Anamorphic Adapter (2.40:1), or COVR lens accessory and lots of advanced audio options. Lastly, most people like the fact that the app enables them to easily share their video recordings on Facebook, Dropbox, Vimeo, iTunes Cloud Service, Amazon Cloud Drive, etc.
Ultrakam 4k ($9.99)
Ultrakam
4k resolutions are the latest trend in today's videos, and (as I'm sure you've guessed from its name) Ultrakam 4k is an application that can help you record videos in that resolution. The app only works on iPhone 6 and iPhone 6+ and records at 3GB per minute, but the quality of its videos is unparalleled, competing with the performances achieved by GoPro Hero4 or Sony F55. Additional functionality includes manual controls for Exposure, Focus or White Balance, support for slow motion, the ability to upload in 4K Quality mode on YouTube, timelapse support and a great variety of alternative resolutions to choose from.
VHS Camcorder ($3.99)
VHS Camcorder
So far, we've only been talking about powerful apps that make your videos look as professional as they can get, but what if you want the opposite? What if you want to record a low quality video which looks like it has been shot in the 90s or earlier? VHS Camcorder is an interesting app that can help you. This tool is like a blast from the past helping you degrade video and audio quality of your recordings to mimic those huge camcorders your dad used to have. You can also add on-screen date and time (which you can of course falsify) and pretend to show people your "recently found footage" of times long forgotten. The application is designed to work in landscape mode, can capture HD videos and also has an option for widescreen recording, but that pretty much takes the fun out of everything else.
Hyperlapse (Free)
Hyperlapse
And last on our list is Instagram's Hyperlapse application. Since its debut on the market a lot of people seem to have (re)discovered the timelapse effect, and the web is now filled with such videos. This tool offers some neat functions such as automatic stabilization (so that your video doesn't look like its been shot by someone with shaky hands during a massive earthquake) or the ability to shoot the videos while you're in motion. Hyperlapse allows you to speed up your video up to 12 times and is conveniently easy to use, so that you can easily start recording whenever you need to. Lastly, the application lets you share your videos on Instagram and Facebook directly from its interface.
Hopefully, at least one of these apps will help you out whether you're trying to shoot a professional-looking, high-quality video or something a little bit more artistic.