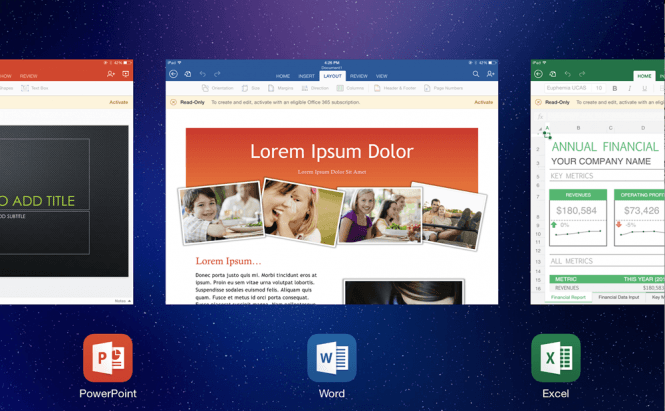 Word, PowerPoint And Excel for iPad 1.1
Microsoft launched the first major update to its Office suite for iPad. That's right, Word for iPad 1.1, Excel for iPad 1.1 and PowerPoint for iPad 1.1 are now available and offer some shiny new features.
First released in March this year, the iPad version of Office did not leave many users open-mouthed. It wasn't because the app itself was bad, but it came to the market too late, and there were already many other products that covered the area. Furthermore, the monetization strategy that only allowed the users to open their Office files for free, but had them pay a subscription in order to edit and create documents annoyed a lot of people. This update may prove to be a good attempt to make the app more popular than before.
The first thing that stands out is that Word, PowerPoint and Excel now allow you to transform your files into PDF documents. This is a feature that doesn't require the Office 360 subscription and can be performed for free by any user. Furthermore, all of the three apps can use third-party fonts and enable you to crop your pictures.
The new functions of Excel for iPad 1.1 will allow you to select the data in a cell or a row with a single click. Furthermore, besides an external keyboard, Microsoft also added some new printing settings, which offer various layout customizations and page sizes.
Version 1.1 of PowerPoint for iPad will also bring a few refinements designed to streamline your interactions with the app. For starters, you can add videos (even from your own camera), background effects or music and play them while presenting. The presentation view changes will help you view, edit or jump to other notes while presenting. Lastly, you will be able to insert hyperlinks into the text and edit the ones that already exist.
All three applications will run on iOS 7 or later and are available for a 30-day trial.