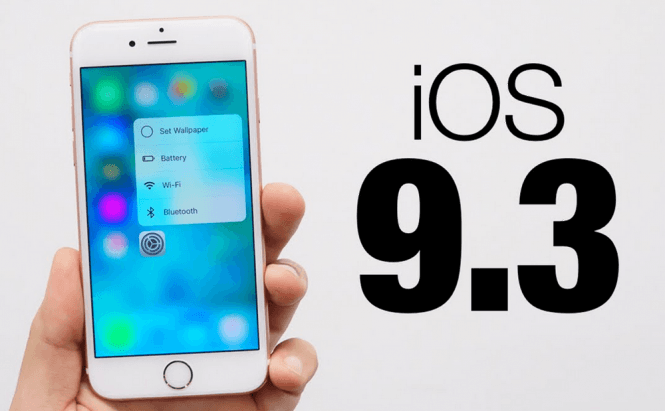 Find out what's new in iOS 9.3
In the last few days Apple didn't just unveil the new iPhone SE, but also notified its customers that the new version of their mobile operating system is now available for download. iOS 9.3 fixes the recently discovered iMessages vulnerability, which allowed hackers to remove the encryption from the photos and messages that were sent via the previously mentioned service. There are also lots of novelties and improvements, so here's a list with all those that I've found so far:
NightShift - a new system-wide setting that adjusts the colors shown on your device's screen "to the warmer end of the spectrum" by decreasing the blue light. The mode will check your current location so that it can automatically start at sunset and automatically revert your colors to normal when the night is over.
Notes protection - starting with this latest version of iOS, those who use the Notes app will be able to protect their files with passwords and thus keep them away from prying eyes. Additionally, you can also keep your notes safe using the Touch ID security system.
Additional Quick Actions - the 9.3 version of the operating system will make it easier for its users to take full advantage of 3D Touch's capabilities with the help of some new quick actions. For example, deep-pressing the Settings icon will quickly take you to the BlueTooth, WiFi, battery or wallpaper options. There are also quick actions that let you launch the Health app and an Update All action for the Apple Store.
Health App - under the new operating system, the Health app will give the users an easier way to get relevant third-party Health Kit apps and will even categorize those applications into Weight, Workout and Sleep sections. Additionally, the fitness data collected by the Apple Watch is now easier to access and to share.
Car Play - when you connect your iPhone to the CarPlay stereo you will now also see the

New and For You sections

, while the Maps app finally offers support for the Nearby functionality.
News - as far as the News app goes, you are now able to play inline videos without leaving your current thread. Furthermore, the For You section has been improved to be more relevant for your interests.
Education - the new version of iOS also brings some new education-related features that will be beneficial for the teachers and admins from schools using the new Apple School Manager portal.
If you're the proud owner of an Apple-made mobile device, you might also be interested in reading some of our other stories such as "Top 5 apps that make the most of 3D Touch" or "Top 5 apps to help you send secret messages on iOS".