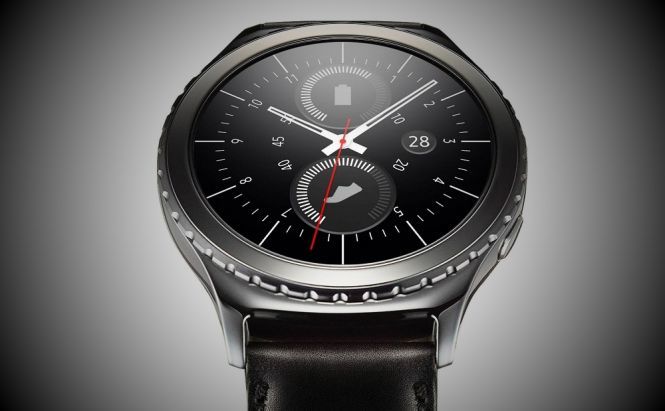 Samsung revealed the Gear S2
Are you still in two minds about buying a smartwatch? Even if you are not into wearables or already have one, Samsung's new Tizen-powered smartwatch is still worth checking out. The Gear S2 has been revealed, and it is set to hit the US market in October. So let's see if the Gear S2 has enough features to challenge all the Android Wear devices and the Apple Watch.
Samsung's round smartwatch will be made of stainless steel and will come in black or white featuring a classic and a sports model. The rotating bezel will allow for convenient navigation through a defined set of widgets and apps. The Gear S2 has 26 preinstalled watchfaces that range from classic analog interfaces to more modern-looking ones. Most of the watch-faces are customizable, which means that you can change the style of dials, hands and other elements. What might seem to be the weak side of the Gear S2 is the number of supported apps. As the smartwatch is running on Tizen, its users won't have the diversity of choice that Android Wear users enjoy. Neverheless, Samsung has an extensive list of partners, and you may rest assure that you will have enough options to fill the 4GB of the smartwatch storage space. Other specs include 512 MB of RAM, 1.2" Full Circular SAMOLED display and a 250mAh battery (300mAh for the Bluetooth version) that is promissed to give the watch enough power for 2-3 days of sustainable work.
Gear S2 Variations
The Gear S2 will support all Android devices, although some of the features (like Samsung Pay) will be used only with Samsung smartphones. TechRadar also reports that the company may be looking at opening the Gear S2 to iOS devices. Although this piece of news should be taken with a grain of salt, the decision to make the smartwatch compatible with iPhones is not that surprising. We already know that Google is working to make Android Wear compatible with iOS, so Samsung might be doing that as well not to fall behind the opponents. Or maybe because cooperation is more effective then competition after all?