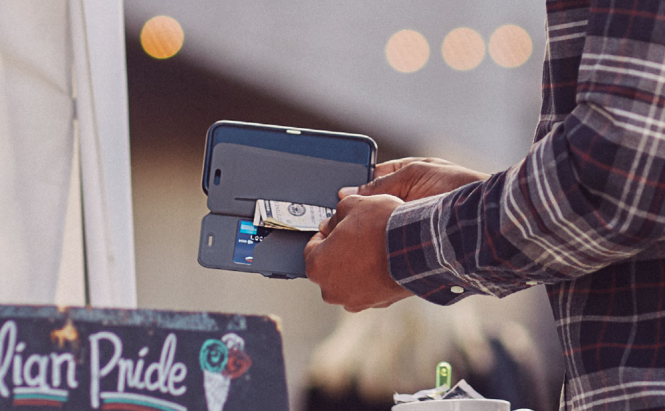 Ten best accessories for iPhone 7. Part 2
There are a lot of nifty gadgets and useful accessories for iPhone 7 out there. Many of them are backward compatible and most likely will make friends with the upcoming iPhone 8. Having discussed some of the essential Apple's in-house solutions in Part 1 of our list, let's have a look at these 'must have' devices:
6. tech21 Evo Wallet Case
Ok, here's a case that really can survive a beating. An accidental 10 feet drop won't even leave a scratch on your precious handset. There are cases for both model 7 and model 7 Plus in two colors - black and pink. Moreover, each unit doubles as a wallet with a number of slots for credit cards – just in case Apple Pay won't work properly.
7. Emie Vintage Radio Bluetooth Speaker
Emie Vintage Radio Bluetooth Speaker
The key word here is 'vintage'! This beautiful little gadget has a minimalistic design that harkens back to the handheld radios from the 1950-s, but with a modern twist. It can work for up to 6 hours on a charge and 'falls asleep' if you don't touch it for half an hour. Surprisingly, It is quite loud for its compact size – way louder than the speaker on your iPhone 7 – and almost weightless too. There are a lot of Bluetooth speakers on the market, but this one just begs for a perfect holiday in the sun.
8. Promate carMate 6 Wireless FM Transmitter
Promate carMate 6 Wireless FM Transmitter
You can go even more vintage with carMate 6! Classic car owners rarely switch to modern stereo systems as it may damage the look and feel of the automobile. Now they don't need to! You simply need to pair your iPhone with an FM transmitter and tune in the correct frequency on your car radio! The carMate easily connects to your phone via Bluetooth so you can start broadcasting right away. You can even make a playlist of your favorite oldies to complete the illusion!
9. Nomad Key for iPhone
Nomad Key for iPhone
Yes, this is a small keychain with a lightning cable just about the size of your average household key. This inexpensive trinket will ensure that your new iPhone won't run out of juice no matter what, even if you've left your native cable and charger at home. Just find a vacant USB port and you'll be fine.
10. Apple Lightning to 3.5mm Headphone Jack Adapter
Lightning to 3.5mm Jack Adapter
While you'll certainly get one prepackaged with your new phone, statistics show that this lightning to 3,5mm jack adapter is one of the most highly sought after accessories on our list. Just because it is so small – you are almost destined to lose yours at some point. So, having a spare one is always a good idea.
And that's our list! If you find it useful, you might also enjoy our previous Apple-related entries, like "Wireless power bank chargers for the Apple Watch" and "iPhones may soon refocus your picture after you've taken it".