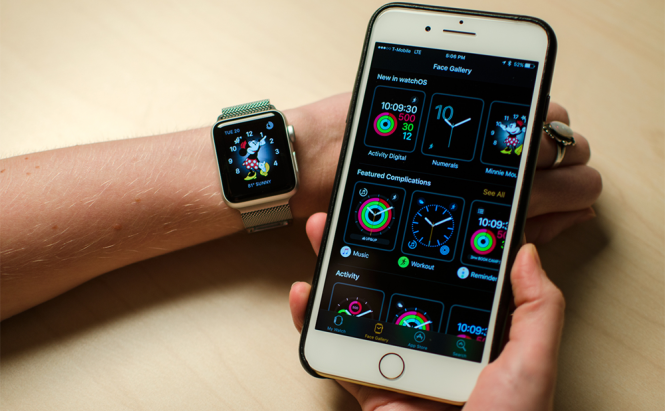 Ten best accessories for iPhone 7. Part 1
The holiday season is behind us now. Those of you who got lucky enough to get the latest iPhone must be pretty accustomed to the device now, but what if you could improve your experience? Here's a list of handy peripherals and useful accessories to make you enjoy the handset even more!
1. Apple Watch Series 2
The Watch is not just a stylish extension for an iPhone – it is a basic necessity for those who are always on the move. You can check notifications, pay for goods and services and do dozens of other things without ever reaching for your handset. Series 2 brings in a new dual-core processor, an improved battery and a GPS module. Add a water-proof housing – that survives a 50 meter dive – and support for Siri and you'll get a pretty versatile wearable! WatchOS gets tweaked and updated regularily – adding new features and proving time and time again that Apple Watch is a great investment.
2. Apple AirPods
This pair of wireless headphones by Apple is a must have for any iPhone fan. With its sleek design and top-notch sound quality the set works fine wherever you go – from your living room to the city center. The new W1 chip keeps the music flowing for up to 5 hours on a charge so all you have to do is flip open the case and bring the AirPods close to your handset. The rest is magic.
3. Apple iPhone 7 Smart Battery Case
Apple iPhone 7 Smart Battery Case
This is a neat little battery extension for your iPhone 7. It has a grippy silicone exterior, soft microfiber inner lining and comes in two basic colors – black and white. Sure, it may not look like much, but it definitely wins in practicality as it almost doubles the time your handset can survive between charges.
4. iPhone Lightning Dock
iPhone Lightning Dock
A device made by Apple for all the music lovers out there. In essence it is a lite version of all those docking stations we used with previous models. Fair and simple – you put your smartphone atop and connect the charger. Now you can plug in your favorite HiFi headphones with a 3,5mm jack and enjoy those tunes while your iPhone is charging. As a bonus it comes in all official colors for iPhone 7 and iPhone 7 Plus.
5. Tile Slim Bluetooth Tracker
Tile Slim Bluetooth Tracker
Here's one for those who always forget where they left their smartphone. With this little device by Tile you'll be able to easily track your handset as long as it's within the Bluetooth range. A real time saver! The tracker itself looks… well… like a small tile, slightly thicker than a credit card. Throw it in your pocket or put it in your wallet and next time you'll easily find your lost iPhone. Well, as long as you remember where your wallet is.
And that's the first half of our list. While you are waiting for Part 2 to be posted you can read our previous iPhone-related entries, such as "iPhone 8's charger to go fully wireless" or "How much will iPhone 2017 cost?".