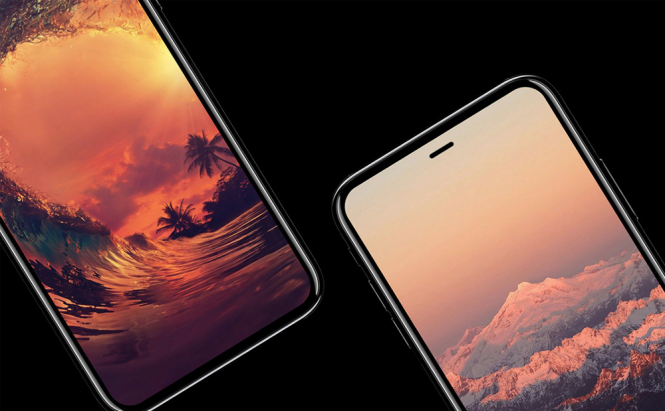 These renders prove iPhone 8 to get the biggest screen ever
As we're getting closer to the biggest annual autumn event, the hype surrounding the next iPhone gets overdriven by rumors and speculations. While the 'leaked' images and specs are usually nothing more than wishful talking at best, this years' Samsung Galaxy s8 proved that there are certain features that the public expects from a modern smartphone. To stay relevant Apple simply can't ignore those trends anymore. Here we go again!
This past Monday a new batch of mock-ups, presumably coming straight from a Foxconn factory, have taken the tech community by storm. These latest renders from China depict iPhone 8 as having a large frontal 5,8-inch bezel-less OLED display, akin to the one on Galaxy s8. The similarity goes even further taking into account the slightly curved screen sides and a glaring lack of the physical 'home' button. The dimensions of the device - 137.4mm tall and 67.54mm wide – are an exact copy of iPhone 7, but then Apple rarely switches from the trademark standard.
A promise without a promise
This leaked iPhone 8 concept is believed to be the real deal
What strikes the most is how persistently these latest mock-ups show an in-display fingerprint reader. This was a common feature on pre-release Galaxy s8 renderings as well, but at the very last moment Samsung has moved the ID scanner – somewhat awkwardly – to the back. If Apple manages to make those predictions real – mainly by sorting out the overheating issue – this might as well become the next big thing and a new standard for next gen smartphones.
Latest analytical reports, however, hint that Apple may not have the optical fingerprint sensor ready before September. If that's the case the guys from Cupertino might opt to remove the Touch ID feature altogether – at least for 2017's model – relegating the security task solely to face recognition technology. Other sources suggest that Apple could announce the device in September, but delay the actual shipping to stores until Christmas. Only time will tell. Either way, on the brighter side of things, just like with previous versions, you'll be able to fully customize the lock screen. All you'll need is a suitable app – like Fancy Lock Screen or Magic Screen – and a pinch of creativity.
Sure, these leaked iPhone 8 mock-ups may look pretty convincing, but they are what they are – a rendering of a yet unreleased product. Apple still got five months to brush everything up, and we are almost certain to get more fresh details in summer, so stay tuned!