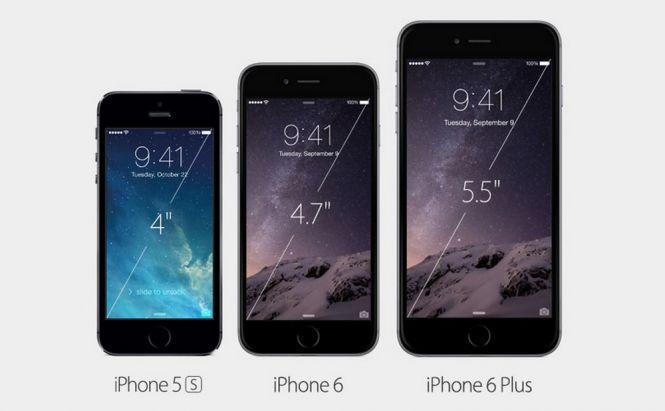 Apple Unveils iPhone 6 and iPhone 6 Plus
Apple has announced its next-generation handsets – the iPhone 6 and iPhone Plus having 4.7-inch and 5.5-inch screens respectively.
As expected, both models have larger screens than their predecessors. The iPhone Plus became the first Apple's "phablet" - a hybrid of a phone and a tablet, and the iPhone 6 also has a bigger screen than iPhone 5S. The iPhone 6 is only 6.9mm thin – one of the thinnest models on the market, while iPhone Plus is only 2 mm thicker. The new smartphones now have more rounded bodies making them easier to grip and the new place for the power button – it has been moved from the top of the phones to the right hand side, which makes it easier to hit while holding the handset with one hand. The new devices also have NFC integrated into them, which allows their owners to make credit card payments at NFC-enabled kiosks.
Comparing the sizes of the iPhone 6 and the iPhone 6 Plus
Both iPhones sport a new A8 processor which is claimed to be 25% faster than in the previous iPhone model. Moreover, the battery life has also been improved: it is supposed to work 16 days on standby (while iPhone 5S's battery lasts only 10 days).
Both new handsets have "Retina HD" screens covered in ion-strengthen (there was absolutely no mention about Sapphire glass so much rumoured before). The iPhone 6 has a screen with a 1334 x 750 resolution with the same pixel density as on the iPhone 5s, and the iPhone Plus boasts a 1920 x 1080 screen with a 401ppi display.
iPhone 6 Camera
The camera on the iPhone 6 Plus has just the same 8MP as on the iPhone 5S. However, now it can shoot 1080p video and the slow motion mode now offers you to record in either 120 fps or 240 fps. Other improvements over camera include Autofocus becoming two times faster and now having an aperture of f/2.2, and a new front 1.2MP HDR FaceTime camera. The iPhone Plus will also have optical stabilization, which will be quite handy when shooting in low light as it will remove camera shake.
Just like the previous Apple's flagman, iPhone 5S, the new devices will come in three colors: grey, silver, and gold. The iPhone 6 and iPhone Plus will be available to purchase on September 19, while pre-orders will begin on September 12. In US, the price for iPhone 6 starts at $199 on a two-year contract while the iPhone Plus will cost $299 on the same deal.