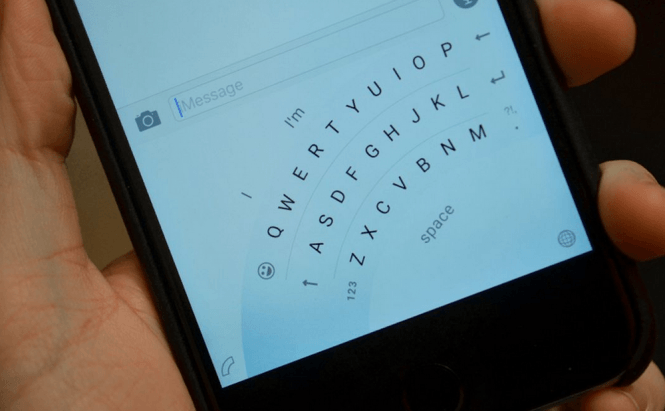 Microsoft's iPhone keyboard enters its private beta stage
Microsoft is taking another step away from its own platforms with a new keyboard application for iPhones. Named Word Flow, this alternative keyboard that was first unveiled about two months ago, is now ready for testing and has entered a private beta stage. Since the competition is steep and Google is working on its own keyboard app for iOS, the Redmond-based company has every reason to hurry things along as much as it possibly can.
If you're curios about the stand-out features that this keyboard replacement app brings, the most important one is the unorthodox shape of its buttons, which is designed to make one-hand typing more comfortable. As you can see in the image above, the keyboard is curved and centered around the right corner of the phone, thus making it easier for the users to reach all the keys with their thumbs while holding the phone with the same hand. (I'm guessing that there's also an option to curve the keyboard around the other corner in case the user is left-handed.) Furthermore, Microsoft's keyboard alternative for iPhones also syncs with the contact list, so it can easily autocomplete the names saved into the device. Lastly, the app also provides easy access to the iOS-specific emojis and several themes that the user can choose from.
If you're interested in being one of the people who gets to test out Word Flow, you can register on the beta testing page. However, there's no guarantees that you'll actually be invited to the program as Microsoft didn't disclose any details about how it's choosing its testers. To be perfectly honest, I'm quite curios to see this new keyboard, especially since Microsoft has recently announced that it acquired SwifKey.