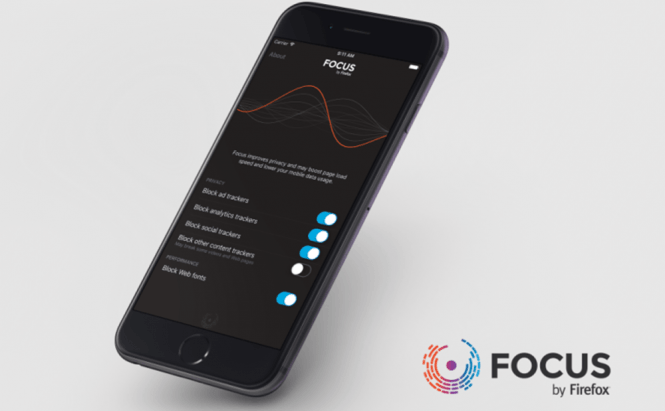 Mozilla releases an ad-blocker for iPhones and iPads
This might come as a huge surprise to those who usually read the news on this website, but I really dislike ads and advertising companies. Instead of focusing on cleaning up their ads and improving them so that they're visible without actually interfering with the user's browsing experience, these companies would rather fight against our right to choose and try to shut down ad-blockers. The good news is that I'm not the only one who thinks this way, and Mozilla has recently started its own private battle against advertisements. After recently giving up on its ad business to focus on "content discovery", today, the company has launched a new Firefox-branded ad-blocker for iOS.
Named Focus by Firefox, the ad-blocker is easy to install and allows its users to choose the content that they want blocked. What I find really cool is that the product also allows you to target specific segments of code which are known for tracking the user's activity on the Internet or on a specific website (ad trackers, analytic trackers, social trackers, etc.). Basically, it works just the same as the Tracking Protection feature from the Firefox Private Browsing mode on Windows, Mac, Android and Linux. Another big plus is that this method seems to be very fair as the ads that aren't intrusive and that don't track Focus's users will be let through.
Focus by Firefox
Talking about the company's new ad-blocker, Denelle Dixon-Thayer, Mozilla's Chief Legal and Business Officer stated: "We made Focus by Firefox because we believe content blockers need to be transparent with publishers and other content providers about how lists are created and maintained, rather than placing certain content in a permanent penalty box. We want this product to encourage a discussion about users and content providers, instead of monetizing users' mistrust and pulling value out of the Web ecosystem." This isn't the first time that the company has tried to find a compromise between advertising companies and ad-blockers: a couple of months ago, Mozilla came up with a set of guidelines to regulate ad-blocking, but the initiative didn't have the expected impact.