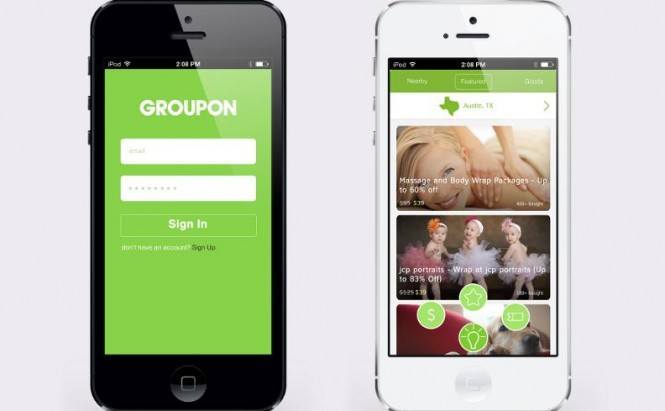 Smart Shopping
The popular wisdom says: when the going gets tough, the tough goes shopping. Right it is. Just imagine how you could do without shopping. Nowadays, it's a vital part of our life to make necessary purchases, get rid of stress and simply relax. It's some kind of art to adopt wise shopping habits. Luckily, there is a variety of apps on the market that share handy tips how to shop for best deals and lowest prices directly from your iOS device.
One of them is Groupon designed to enhance your shopping experience. The app is highly demonstrative and user friendly. The only thing for you to do is detect your location among about 500 spots on the globe and enjoy numerous deals.
You can browse through the Goods section to get the general idea of the app's offers: Baby, Electronics, Entertainment, Home, and much more wares. No matter which category you're going to choose, be sure that Groupon will do its best to find best local sales. You will get all the details of the sale: the picture of the goods you're looking for, its description, limited quantity available, offer's deadline, original value (how much the product usually costs), discount and price difference. The greatest advantage is that you can purchase the chosen item online via the app.
In the Freebies section, you are able to search for todays' best free coupons and exclusive Groupon offers. Here you get the current data on promo codes, free samples, giveaways, etc. Moreover, the software lets you learn about a variety of other places where to eat, go for sports, spend your free time, and so on.
You see, the application is designed for savvy shoppers but you should bear in mind that it supports deals only for 500 cities all over the world. Moreover, I doubt that it can provide all the local deals that can prove useful to you. However, Groupon is free of charge. So I think you can give it a try and shop in the smart way, just keeping an eye out.